:
Installation Night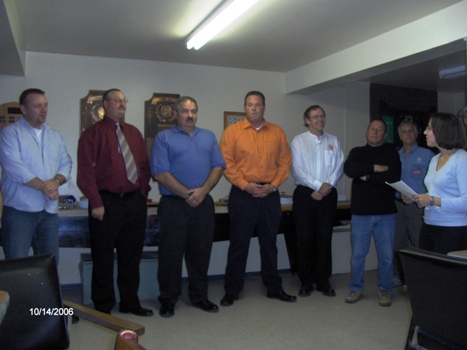 Installation night was held in The Pas on October 8, 2006. This is installation of the new officers for the 2006-07 Kin year. District Governor Cassandra Spence from the Flin Flon Kinettes was on hand to do the installations Our president for the 2006/07 year Doug Van Damme, 1st Vice Ken Tritthart, 2nd Vice Gerry Miller, Treasurer Dave Roberts, Secretary Darryl Shotton, Registrar Byron Pease, Bulletin Editor Bruce Trampe, Director Mike Montpetit, Director Armand Lambert, Director Darrell Hoskins, Bar Chair Brent Purshega, Kin Kourt Director Kevin Bate and past president Bryan Horst .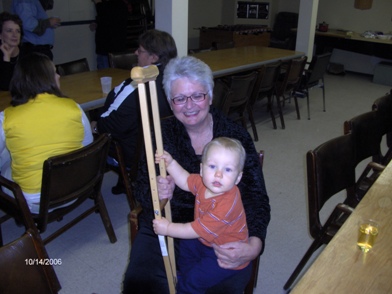 The gathering continued after all the formalities, everyone had brought their favorite finger food. Games were played along with all the kinship between members, their spouses and invited guests. The picture on the left is of Sue Lambert and her grandson Owen Kerr. Owen is the son of Kin Curtis and Charlene Kerr.
The Picture on the bottom right is of Rob Kozak receiving a going away gift. Rob is leaving the area for a job in Thunder bay Ontario, where he will join his fiancée Heather. Rob was a great asset to our Kinsmen Club, he will be missed. Best of luck to you on your new adventures.