<![if !vml]><![endif]>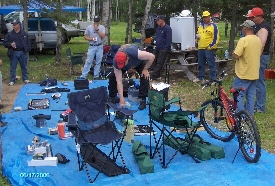 Every year our club hosts a fish derby out at Cormorant Lake about 1 hour northeast of The Pas. Usually held the 3rd weekend in June, itís a chance for Kinsmen and their guests to get away for a few days of camping, fishing and good times around the fire. Most head out on Friday to test the waters and locate the best spot for the next dayís event. On Saturday, the fishing begins at sunrise and continues till 3:00pm when the numbers come in and the winners are determined.
Itís a great format with hidden lengths and times being drawn for species caught. Basically the more fish you catch, not the biggest, increases your chances of finishing higher in the standings. There are excellent prizes to choose from thanks to generous support from local businesses.
We have unbelievable meals prepared by our chef Kevin Bernstrom (he canít fish but he sure can cook!) and usually the weather cooperates. The fun continues well into the night/morning and the site at Cormorant is well suited to our style!
This is an event that a lot of the guys look forward to all year and itís a great way to begin the summer. If you are a Kinsmen member and would like more information on this Kinsmen Derby please get in touch with one of our members.
2007 Fish Derby, Kinsmen Club, The Pas MB
Click here to contact a member about Fish Derby