The Pas Fire Department Vehicle Extrication Team
The Pas Fire Department Vehicle Extrication Team (VXT) has been taking part in various competitions throughout the year against other fire departments across the country. In August of 2000, they took part in the Western Canadian Championship in Cold Lake, Alberta. They came out victorious and are now representing Canada at the World Extrication Challenge taking place in May 2001 in Johannesburg, South Africa. They will be competing against teams from New Zealand, Australia, Scotland, Great Britain, United States, Spain, Kosovo, and Zimbabwe as well as several teams from South Africa. In order to be able to attend this competition, they had to do a huge amount of fundraising.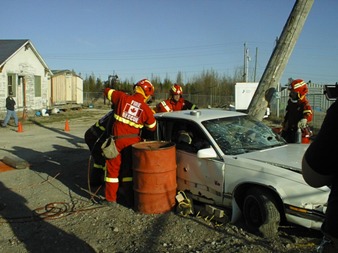 When The Pas VXT approached the Kinsmen Club of The Pas for financial assistance, we were admittedly unsure if this would truly contribute to the community's greatest needs. The entire VXT came out to one of our general meetings and told us about all the new techniques they have been able to learn at the various competitions they have attended and they informed us about the learning opportunities that would be provided in South Africa. Once we discovered that their attendance at the World Extrication Challenge would potentially help save lives in our community, we wanted to help. We offered to purchase fireproof coveralls and gloves for the VXT if they would contribute 60 hours of volunteer time to our Golden Nuggett Casino held during the Northern Manitoba Trapper's Festival. The VXT came through and we are proud to see them in their new coveralls with the Kinsmen logo displayed on the sleeves.
On May 3, 2001, Kin Dave Roberts and Kin Jason Neustaeter volunteered to be extricated from a damaged vehicle during the VXT's last practice before leaving for South Africa. A large crowd of onlookers watched as the VXT rescued Dave and Jason in just 17 minutes!