<![if !vml]><![endif]>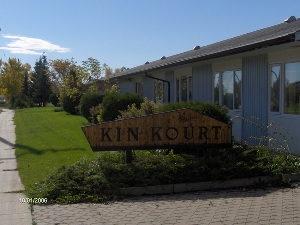 Kin Kourt located on Cathedral Ave. across from the RH Johnston Arena, this is a housing complex managed by The Pas Kinsmen for Manitoba Housing. This is a seniors complex made up of 25 suites some bachelor and 1 bedroom suites. This is one of the more popular housing complexes for seniors in The Pas. It is a major project for the Kinsmen, the yard area is very popular, having sitting benches, a picnic table and lots of trees for shade on the warmer days. The caretaker Jared Hogue with the help of his parents Darrell & Bev take a lot of pride in the up keep of this building and grounds.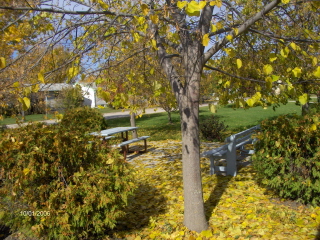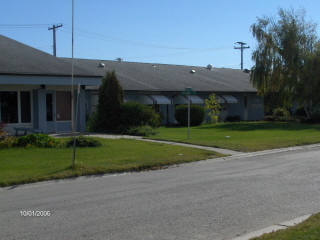 June 25, 1999
CONTRIBUTIONS TO SENIORS
RECOGNIZED BY COUNCIL ON AGING
Seven awards that recognize services and initiatives which reflect a positive attitude toward Manitoba seniors were presented today by Jack Reimer, minister responsible for seniors, on behalf of the Manitoba Council on Aging.
"All of the award recipients have made extraordinary contributions to their communities by demonstrating leadership, initiative and determination," Reimer said. "And these awards are especially significant as 1999 is International Year of the Older Person."
The seven recipients, selected by a panel from the Council on Aging, are:
Myles Haverluck for his commitment and dedication to serving seniors in the Dauphin area. His volunteer work has made it possible for seniors to enjoy a better quality of life.
Samuel Sadler for his work in establishing a HandiVan service in the community of Emerson. Sadler is an active volunteer driver for meals-on-wheels and was instrumental in the establishment of Emerson's senior citizens home.
Dr. G.L.E. Ullyot of Winnipeg for his work and dedication to seniors at the Middlechurch Home of Winnipeg.
Smith's Flowers for exceptional acts and efforts benefiting seniors in the Pilot Mound area. The flower shop provides free carnations and corsages to patients at the local hospital and personal care home during Christmas and Mother's Day. The local business has also hosted an annual picnic for seniors for more than 30 years.

The Pas Kinsmen Club for its diligent service to seniors in the community. The club built and operates Kin Court, a seniors residence and Kin Centre, a community centre for seniors.

Canada Safeway stores at 3393 Portage and 3059 Ness Avenue in Winnipeg for demonstrating a strong commitment to serving seniors in their respective communities.
The Manitoba Council on Aging is an advisory body of 15 members drawn from communities across the province. The council advises the provincial government on policies and programs affecting seniors.