<![if !vml]><![endif]>
<![if !vml]>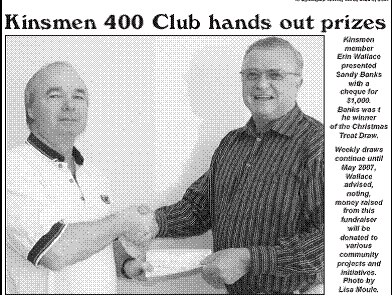 <![endif]>
The 400 club is one of the more popular Kinsmen projects and despite increases in lotteries and similar draws residents and non-residents alike remain faithful to the 400 club which has seen a 100 percent participation rate for years.
The operation of the 400 club is quite simple. A total of 109 draws are made for cash prizes ranging from $50 - $2000. The $52.00 ticket is good for 52 weeks of which there are 52 weekly draws of $100 and $50. In addition there are the following special draws; Early Bird $500, Summer Special $500, Christmas Treat $1000, Trappers Special $500, Last Chance $2000.
The combination of all 109 draws gives a total payout of $12,800. There are only 400 tickets sold (hence the name...400 club) and every ticket is in the barrel for each and every draw, which means one can win over and over throughout the year. The draws are made each Thursday night at Kin Centre and the winners are published quarterly in our local paper. The picture above was printed in our local paper showing a Kinsmen member presenting a Christmas Treat cheque for $1000 to a lucky resident of The Pas.
400 CLUB
2007 - 2008 WINNERS TO DATE
May 24, 2007 Early Bird $500.00 Greg Fortune
May 24, 2007 $100.00 Vera Dunnigan May 24, 2007 $50.00 Peter Thwaites
May 31, 2007 $100.00 Joann Basson May 31, 2007 $50.00 Dean Janz
June 07, 2007 $100.00 Mike Monpetit June 07, 2007 $50.00 Borys Kryk
June 14, 2007 $100.00 Francis Sentenac June 14, 2007 $50.00 Elaine Kobelka
June 21, 2007 $100.00 Brea Anderson June 21, 2007 $50.00 Terry Needham
June 28, 2007 $100.00 Jodie, Jamie & Jenna Reeves June 28, 2007 $50.00 Sally Henderson
July 05, 2007 Summer Special $500.00 Art & Connie Chartrand
July 05, 2007 $100.00 G. Abraham July 05, 2007 $50.00 Doug Goldstrand
July 12, 2007 $100.00 Jim Goodridge July 12, 2007 $50.00 Paul Waroway
July 19, 2007 $100.00 John Morton July 19, 2007 $50.00 Kevin Bernstrom
July 26, 2007 $100.00 Jamie & Carol Smith July 26, 2007 $50.00 Josie Olson
August 02, 2007 $100.00 Marg Gallagher & Shirley Vipond August 02, 2007 $50.00 Shari Babey
August 09, 2007 $100.00 Kent Whaley August 09, 2007 $50.00 Rick & Dallas Hay
August 16, 2007 $100.00 Rusty Krys August 16, 2007 $50.00 Wayde Roberts
August 23, 2007 $100.00 Eddie Dick August 16, 2007 $50.00 Sheryl & Lindsay Bernstrom
August 30, 2007 $100.00 Russ Routledge August 30, 2007 $50.00 Sly & Barb Borsch
Sept. 06/07 $100.00 Rusty Krys Sept. 06/07 Jennifer Berg & Rick Atkins
Sept. 13/07 $100.00 Heather Thompson Sept. 13/07 $50.00 Blair & Tamsin Patience
Sept. 20/07 $100.00 Scott & Kym Duncan Sept. 20/07 $50.00 Chad Anderson
Sept. 27/07 $100.00 Cal Jackson Sept. 27/07 $50.00 Heather Fulmore
Oct. 04/07 Fall Special $500.00 James Hemauer
Oct. 04/07 $100.00 Brad Tonn Oct. 04/07 $50.00 Lisa Pillipow
Oct. 11/07 $100.00 Steven Iles Oct. 11/07 $50.00 Pat Moran
Oct. 18/07 $100.00 Terry Needham Oct. 18/07 $50.00 Stan Patenaude
Oct. 25/07 $100.00 Marg Gallagher & Shirly Vipond Oct. 25/07 $50.00 Debbie Ducette